Matsushima's Japan set for 'do-or-die' Argentina match-up
---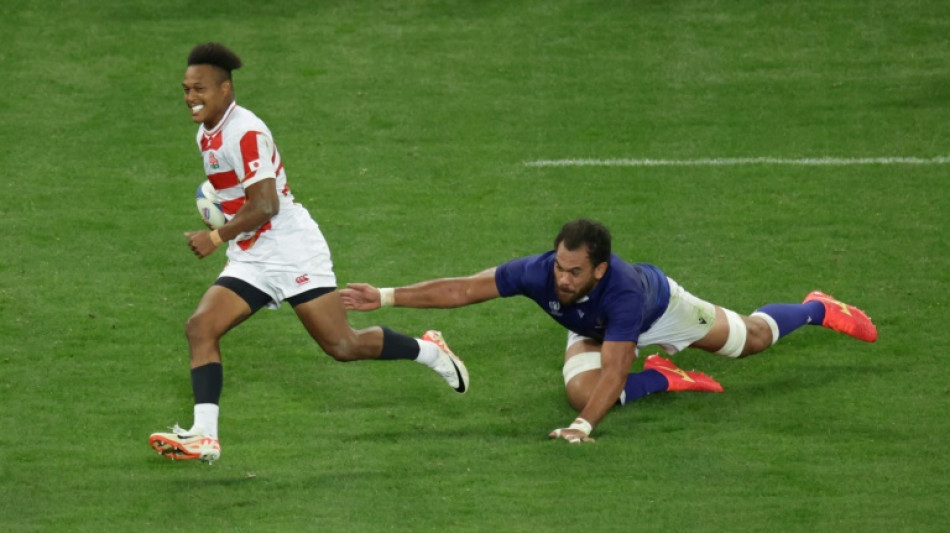 Matsushima's Japan set for 'do-or-die' Argentina match-up / Foto: © AFP/File
Deutsche Tageszeitung
Japan winger Kotaro Matsushima said on Wednesday this weekend's Rugby World Cup game with Argentina is "do-or-die" in their hopes of reaching the quarter-finals.
The winner of Sunday's game in Toulouse will reach the last-eight, as runners-up to England in Pool D.
Japan took it down to the wire due to a win over 14-man Samoa last week whilst the Pumas have not impressed thusfar, but wins over the Samoans and Chile have kept their hopes alive of reaching the last eight.
"Perhaps due to pressure, they (Argentina) don't seem to be clicking at the moment," Matsushima told reporters.
"Because it's a do-or-die thing, it's going to come down to our will to win the game," the 30-year-old added.
Before the tournament Argentina were sixth in the world rankings and looked settled under Michael Cheika with statement wins over England and Australia in the past year.
"Prior to the World Cup, I had the impression that they were coming together as a team," Matsushima said.
"But obviously regular Test matches and the World Cup have a totally different atmosphere," he added.
One threat Cheika's side pose is through winger Emiliano Boffelli's accurate long-range goal-kicking.
"In the last game against Samoa, we lost a lot of easy penalties from offsides," Tokyo Suntory Sungoliath's Matsushima said.
"So as backs, we want to make sure we keep our communication up during the game.
"It's something that we've been working on at training, so not giving away easy penalties will be a key point for this week," he added.
One tactic Matsushima's Brave Blossoms will have to deal with this weekend will be Argentina's up and unders.
Fly-halves Santiago Carreras and Nicolas Sanchez as well as Boffelli have used the option often during this World Cup.
"It's not a problem to catch the ball," Matsushima said.
"It's a matter of how we create a wall when the opposition's pressure comes through.
"It's something we've been working on in the last three weeks.
"We want to create a set-up where the catcher can just focus on getting the ball."
(L.Svenson--DTZ)