Ex-football player in custody after US college shooting
---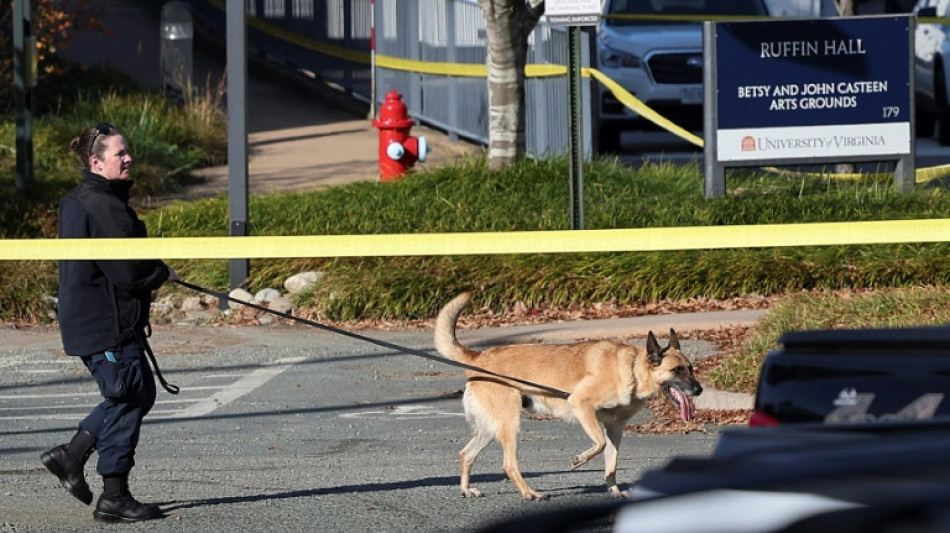 Ex-football player in custody after US college shooting / Foto: © AFP
Police on Monday arrested a former US college football player suspected of shooting dead three ex-teammates at the University of Virginia, a few hours south of the US capital.
The latest outburst of campus gun violence came as four people were found dead in a separate incident near the University of Idaho.
Police chief Timothy Longo told a news conference that a 22-year-old student at the University of Virginia, Christopher Darnell Jones Jr, had been taken into custody on suspicion of carrying out the shooting Sunday night.
"I don't have information with respect to how he was apprehended," Longo said.
The shooting took place on a bus while students were returning from a field trip, according to UVA president Jim Ryan, who said all three victims were members of the college football team.
Two other students were wounded, Ryan said, and one of them was in critical condition.
The campus in Charlottesville, Virginia, about 100 miles (160 kilometers) southwest of Washington, had been locked down while helicopters and police searched for Jones.
The shelter-in-place order was lifted hours later but "a large police presence will remain," the UVA Office of Emergency Management tweeted.
"This is a traumatic incident for everyone in our community, and we have cancelled classes for today," Ryan said in a statement.
Jones is a former UVA football player listed on the Cavaliers' 2018 roster as a first-year running back.
The three victims were identified as Cavaliers wide receivers Lavel Davis Jr and Devin Chandler and linebacker D'Sean Perry.
In 2007, Virginia Tech became the scene of the worst school shooting on record in the United States when a 23-year-old student killed 32 students and faculty members before committing suicide.
After Sunday's UVA shooting, US Senator Tim Kaine of Virginia said he was "heartbroken to hear of another Virginia community devastated by gun violence."
- Idaho college homicide -
More than 2,000 miles to the west in the Rocky Mountain state of Idaho, police were investigating a separate incident in which four students were found dead Sunday in a home near the University of Idaho campus, believed to be the "victims of homicide."
Officers responded to a call in the town of Moscow, near the University of Idaho, about an unconscious individual.
"Upon arrival, officers discovered four individuals who were deceased," police said in a statement.
Authorities did not release other details including the cause of death.
"It is with deep sadness that I share with you that the university was notified today of the death of four University of Idaho students living off-campus believed to be victims of homicide," University of Idaho president Scott Green said in a statement.
Meanwhile near Michigan's largest city Detroit, police were scouring Oakland University early Monday "to pursue two armed suspects on campus," the school said in a Twitter statement as they urged students and faculty to stay away.
The school later gave an "all clear."
The Detroit Free Press reported that the incident began when suspects driving stolen vehicles crashed on an interstate and ran onto the Oakland campus to evade capture.
School shootings are alarmingly common as part of a broader wave of gun violence in the United States, where the proliferation of firearms has skyrocketed in recent years.
In May an 18-year-old gunman burst into Robb Elementary School in Uvalde, Texas, with a semi-automatic rifle and killed 19 students and two teachers, in an attack that shocked the nation and renewed calls for gun reform.
(V.Korablyov--DTZ)