'A legend': Ukraine bids farewell to boxing coach killed by Russian missile
---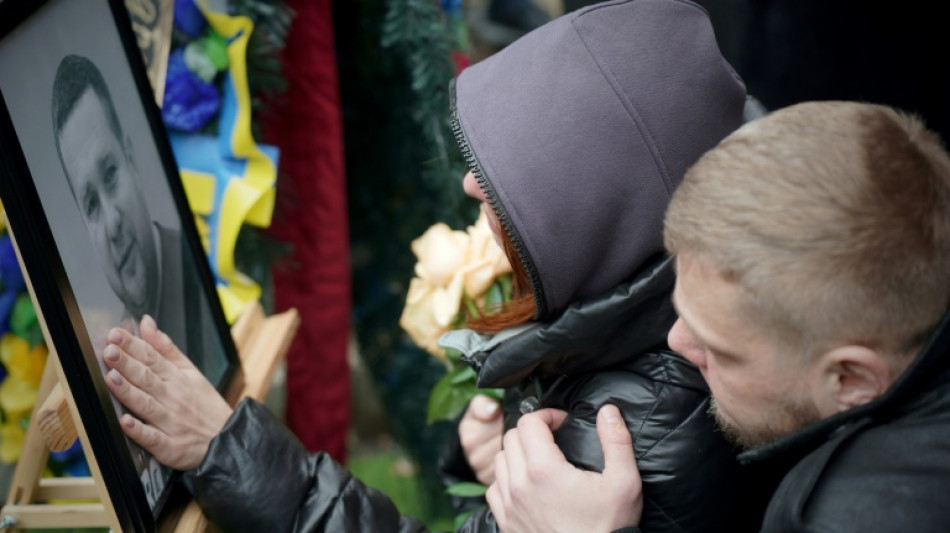 'A legend': Ukraine bids farewell to boxing coach killed by Russian missile / Foto: © AFP
Deutsche Tageszeitung
Hundreds of people packed a local sports academy in Dnipro Tuesday to pay their respects to boxing coach Mykhaylo Korenovsky, who was killed when a Russian missile hit an apartment block last weekend.
Korenovsky was one of at least 45 people killed by the Russian strike on a Soviet-designed housing block in the eastern Ukrainian city.
Six children were killed in the attack, including an 11-month baby.
The heavy toll makes Saturday's strike one of the deadliest attacks since Russia invaded Ukraine nearly 11 months ago, although the Kremlin denies responsibility.
Twenty people are still missing.
At Korenovsky's memorial service Orthodox priests chanted, while the 39-year-old's mother wept.
His grief-stricken widow sat silently nearby, clutching red flowers. She and their two daughters were not at home when their apartment was struck on Saturday.
Colleagues and boxers who trained with Korenovsky -- who was a senior coach for the regional boxing team -- said he was well-loved and respected in the community.
Bouquets of flowers were placed on top of the coach's casket, as mourners were coming to terms with their grief.
"This loss has affected my family," said Taras Ivanov, whose son had trained with Korenovsky for three years.
"Everything inside me is shaking. This man is a legend," Ivanov added.
Artem Biryukov said Korenovsky was like a "second father" to him.
"Thanks to him I became who I am now," he said.
At the funeral service later in the day, the coffin was placed under a red canopy as mourners lined up to touch the coffin and pay their respects.
Some crouched in front of a black and white picture of Korenovsky, weeping.
- 'Ukraine respected him' -
Oleksiy Shevchenko, who had trained Korenovsky, said many of the coach's boxers had won competitions in Ukraine and abroad.
"The whole of Ukraine respected him," he said.
The coach's family had gone out for a walk when the missile had struck, Shevchenko told AFP.
"He was going to join them," he added.
In the aftermath of the strike, Ukrainians shared online a picture of Korenovsky's destroyed apartment.
An external wall of the apartment had collapsed, exposing the family's modern kitchen, complete with bright yellow furniture.
A bowl of apples can still be seen perched on the kitchen table amid the destruction.
Another victim of the strike -- a 15-year-old girl -- was buried on Monday.
Two other residents, young women who both worked as dentists, will be buried on Wednesday.
On Tuesday, rescuers called off the search for victims of the Russian strike.
One of the bodies recovered from under the rubble on the fourth floor of the building on Tuesday was that of a child.
Authorities said that it had taken nearly 70 hours and more than 400 people to clear the debris.
More than 230 apartments have been damaged and over 400 people were made homeless by the strike.
In Moscow, residents laid flowers in the snow in memory of those killed in the weekend strike, at the monument to the famous Ukrainian poet Lesya Ukrainka.
(B.Izyumov--DTZ)