Thousands march in Peru capital to demand president step down
---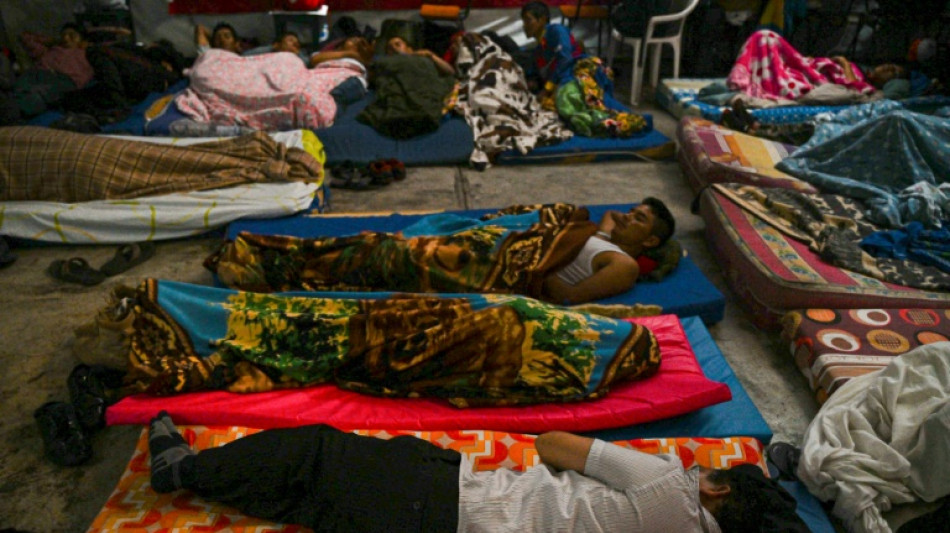 Thousands march in Peru capital to demand president step down / Foto: © AFP
Deutsche Tageszeitung
Thousands of protesters began marching through Peru's capital Thursday to demand the president's resignation and fresh elections, following weeks of violent unrest that have left 44 people dead.
Police said they were on "maximum alert" and have deployed 11,800 officers in Lima ahead of expected trouble from demonstrators demanding that President Dina Boluarte step down.
Some small scuffles were already breaking out as evening fell, with demonstrators in the city center throwing stones at police who responded with tear gas, AFP reporters saw.
Earlier Thursday some 1,000 protesters tried to storm the airport in Peru's second city Arequipa. They were repelled by police firing tear gas, local television showed.
Two demonstrators died after clashes with police in the country's south on Wednesday, bringing the total death toll from more than a month of protests to 44, according to Peru's human rights ombudsman.
The South American country has been rocked by demonstrations, mostly in the southern and eastern areas, since the ouster and arrest of Boluarte's predecessor Pedro Castillo in December.
Protesters, mostly from Andean regions, set off from several points around Lima along major arteries with the aim of reaching the heavily-guarded presidential palace at the end of the day.
"We are here, fighting for our just cause. We want them to close Congress," villager Ayda Aroni, who came from Ayacucho, 330 kilometers (205 miles) to the southeast of Lima, told AFP.
"We are marginalized, they say we're vandals, they call us terrorists, we're demanding our rights."
Several stores on the protest march routes were closed, with some shopkeepers boarding up windows.
The airport in Cusco, a popular tourist destination, was closed for security reasons while there were also protests in several other regions such as Puno, Huanuco and Tacna.
- Ready to 'give my life' -
On Wednesday, a 35-year-old woman was killed in the southern Puno region, according to a hospital statement.
A second person, named as Salomon Valenzuela by the ombudsman's office, died of his injuries on Thursday.
Images shared on social media also showed a torched police station in the town of Macusani, where the flashpoint happened.
A local television station said officers were rescued by helicopter.
Thousands of protesters from rural areas are trying to keep up pressure on the government, defying a state of emergency declared to maintain order.
"We have 11,800 police officers in the streets to control unrest, we have more than 120 vans and 49 military vehicles, and also the armed forces are participating," said Lima police chief Victor Zanabria.
Protesters are undeterred, though.
"In Lima the struggle has more weight. When they repress us in our regions, no-one mentions it," said Abdon Felix Flores, a 30-year-old villager from Andahuaylas in the Cusco region.
Flores said he was ready "to give my life" to ensure change.
"We have come in an organized way to take over Lima, to paralyze Lima, to be heard," said Jesus Gomez, an agricultural engineer from Chumbivilcas in the Cusco region.
One of Peru's biggest labor unions, the General Confederation of Workers, called a strike for Thursday, though there were no visible signs of such a strike in Lima.
"The Peruvian people's struggle will not end tomorrow," Geronimo Lopez, the general secretary of the General Confederation of Workers, said in a press conference late on Wednesday night.
"It will continue as long as Mrs Dina Boluarte doesn't listen to the people," added Lopez.
"This is a fair, democratic mobilization."
- 'Traitor' -
Earlier this week, Boluarte urged protesters flooding into Lima to gather "peacefully and calmly."
But the president warned protesters that "the rule of law cannot be hostage to the whims" of a single group of people.
Peru's sports institute suspended the start of the national football league this weekend due to the unrest.
Protesters have maintained almost 100 roadblocks across Peru.
Castillo was removed from office and arrested on December 7 after attempting to dissolve the country's legislature and rule by decree, amid multiple corruption investigations.
Boluarte, who was Castillo's vice president, succeeded him. But despite Boluarte belonging to the same left-wing party, Castillo supporters have rejected her, even accusing her of being a "traitor."
(L.Barsayjeva--DTZ)