Allies fail to agree on heavy tanks sought by Ukraine
---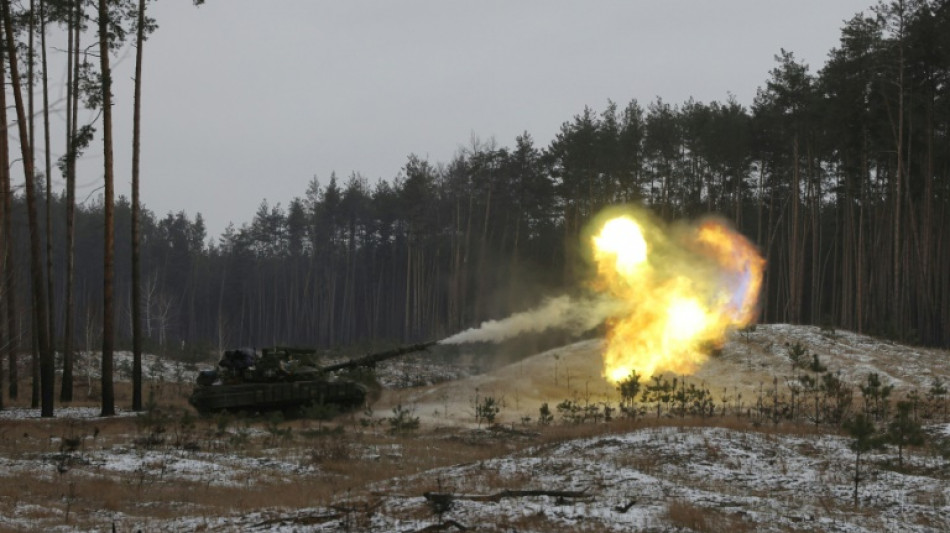 Allies fail to agree on heavy tanks sought by Ukraine / Foto: © AFP
Deutsche Tageszeitung
Ukrainian President Volodymyr Zelensky said Friday there was "no alternative" but for the West to give Ukraine heavy tanks, as Germany failed to say whether or not it would provide its much sought-after Leopards.
Expectations had grown ahead of a crucial US-led meeting on boosting military aid to Ukraine that the allies would agree to send German-made Leopard tanks, amid mounting pressure from several European countries.
US Secretary of Defense Lloyd Austin underlined the urgency of the situation with Ukraine was expected to mount a counteroffensive against Russia in the coming weeks.
"We have a window of opportunity here between now and the spring... whenever they commence their operation, their counteroffensive," Austin said.
But German Defence Minister Boris Pistorius told reporters on the sidelines of the event at the Ramstein Air Base in Germany: "We still cannot say when a decision will be taken, and what the decision will be, when it comes to the Leopard tank."
He also denied accusations that Germany alone was blocking tank deliveries. The impression that "there is a united coalition and that Germany is standing in the way is wrong", he said.
Kyiv wants the powerful Leopard tanks to press offensives against Russian troops, but the Kremlin has warned their delivery by the West would amount to an "extremely dangerous" escalation.
Germany's hesitation on supplying the tanks has led to fierce criticism of Berlin from other countries such as Finland and Poland, which have their own stocks of Leopards but would need German approval to send them.
- 'Reliable ally' -
But the meeting's host, Austin, defended Germany against criticism it was not doing enough to help Kyiv.
"We could all do more," Austin said, emphasising that Berlin was a "reliable ally".
Zelensky renewed his plea Friday for Western allies to "speed up" arms deliveries to Ukraine in a video address to the conference, which gathered representatives from 50 countries.
Partners needed "not to bargain about different numbers of tanks but to open that principal supply that will stop evil", he said.
He returned to the subject later Friday.
"Yes, we will still have to fight for the supply of modern tanks, but every day we make it more obvious that there is no alternative that a decision about tanks must be made," he said.
National Security Council spokesman John Kirby told reporters that the US would not pressure Germany, but that Washington backed sending tanks to Ukraine.
Germany's Leopards were more suitable than the complex US-made Abrams, he argued.
"We do believe that there is a need for armoured capability, including tanks, inside Ukraine, and the Leopard tank is a terrific system," he added.
Kirby also announced Friday that the US had designated Russia's Wagner group as a "transnational criminal organisation".
He showed US intelligence photographs of North Korea supplying arms to Wagner for its Ukraine operations, and said the private army had become a rival to the formal Russian military.
- 'Very difficult' -
Ahead of the Ramstein meeting, Western allies had offered a flurry of new arms shipments.
The Pentagon offered $2.5 billion worth of supplies for Ukrainian forces including Bradley fighting vehicles, armoured personnel carriers, air defence systems and tens of thousands of rockets and artillery rounds.
But it did not include the ATA long-range missiles sought by Ukraine.
Western partners fear Kyiv could use the weapons to hit deep inside Russian territory or in Crimea, the peninsula Moscow annexed in 2014.
The Netherlands defence ministry said Friday the country would help Ukraine equip itself with the Patriot air defense system to protect itself against drone and missile attacks.
It is also studying the possibilty of sending heavy tanks to Kyiv.
Ahead of Friday's Ramstein meeting, the Kremlin accused the West of harbouring a "dramatic delusion" that Ukraine could win on the battlefield, adding that the conflict was "developing in an upward spiral".
The meeting offered a sombre assessment of progress on the front.
US Joint Chiefs of Staff chairman Mark Milley said: "From a military standpoint I still maintain that for this year it would be very, very difficult to militarily eject the Russian forces from all, every inch of... Russian-occupied Ukraine."
- 'We'll be homeless' -
Almost a year into Russia's invasion of Ukraine, the most intense fighting in recent months has centred around the eastern Donetsk region.
"Look, look, it's my flat, it's the only flat I have," said Olga Tomakh, 70, on the verge of tears.
About 15 kilometres from Bakhmut, in Soledar, the UN's first humanitarian convoy arrived in the town that has been largely reduced to rubble.
burs-jj/fb
(M.Dorokhin--DTZ)