US, Germany approve long-awaited heavy tanks for Ukraine
---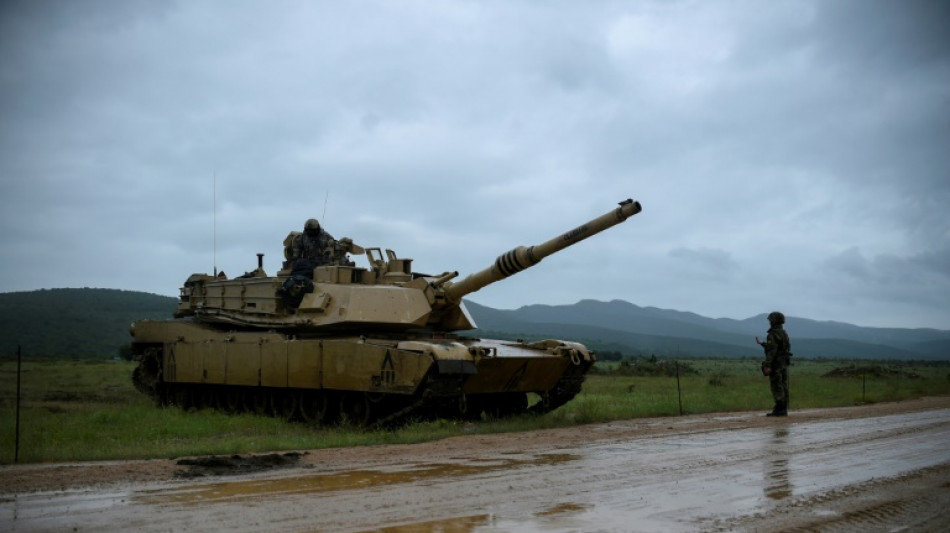 US, Germany approve long-awaited heavy tanks for Ukraine / Foto: © AFP
Deutsche Tageszeitung
The United States announced Wednesday that it will provide heavy tanks to help Ukraine repel Russia's invasion, mirroring a similar move by Germany in the face of dire warnings from Moscow.
After months of intense lobbying for the military equipment, news of the tanks' supply comes as a major relief for Kyiv -- particularly as Russia reports advances in Bakhmut, an eastern Ukrainian town the invading forces have been trying to capture for months.
Ukraine's President Volodymyr Zelensky thanked his German counterpart Olaf Scholz for the "important and timely" decision to allow the long-sought delivery of its powerful Leopard 2s.
Hours later, President Joe Biden delivered an address from the White House to announce the United States will also be providing 31 M1 Abrams tanks -- the equivalent of one Ukrainian tank battalion -- for Kyiv's fight.
NATO Secretary General Jens Stoltenberg "strongly" welcomed the decision by Germany -- which reportedly sought a US commitment of tanks before giving its own green light -- saying it would help Kyiv defeat Russia's invading forces.
Unlike the German tanks, the M1 Abrams will be procured with Ukraine assistance funding rather than directly drawn from existing US stocks, meaning they will not arrive on the battlefield for months.
"Tanks are complex systems that require a significant amount of training and maintenance," a US official said, and the United States "will begin now to work to establish a comprehensive training program."
- 'Blatant provocation' -
The twin announcements come despite dire warnings from Moscow, with Russia's ambassador to the United States, Anatoly Antonov, warning a US approval for Abrams deliveries would be "another blatant provocation against the Russian Federation."
Moscow's ambassador to Germany, Sergei Nechaev, likewise warned that the "extremely dangerous decision takes the conflict to a new level of confrontation, and contradicts statements by German politicians about the unwillingness of the German Federation to get involved in it."
While scores of nations have pledged military hardware for Ukraine in recent weeks, Kyiv has been clamoring for the more sophisticated Western tanks, seen as key to punching through enemy lines.
Germany will give 14 Leopard 2 A6 tanks from its Bundeswehr supplies, Scholz told the German parliament.
It is also granting approval for other European countries to send the German-made tanks from their own stocks to Ukraine, with the aim of quickly assembling "two tank battalions with Leopard 2 tanks for Ukraine," he said.
Berlin will train Ukrainian forces to use the tanks in Germany, as well as provide logistics, ammunition and maintenance for the vehicles.
"At a critical moment in Russia's war, these can help Ukraine to defend itself, win (and) prevail as an independent nation," said Stoltenberg.
- 'Tank coalition' -
Kyiv urged allies to now build a "tank coalition," noting that "the first step on tanks has been taken."
"We need a lot of Leopards," the head of Ukraine's presidential administration Andriy Yermak said on social media.
Scholz, who had faced accusations of dithering over whether to send the tanks, defended his stance during question time at parliament.
"I want to say explicitly that it was right and it is right that we did not let ourselves be pushed into this but that we rely on and also continue on close cooperation in such a matter," he said.
Other European countries including Spain and Poland have said they are ready to provide tanks.
Finland said it would join the effort, but did not specify whether it would send its own tanks or provide training.
burs-wd/ec
(U.Kabuchyn--DTZ)