'Heart and soul' edges France past Japan in rugby thriller
---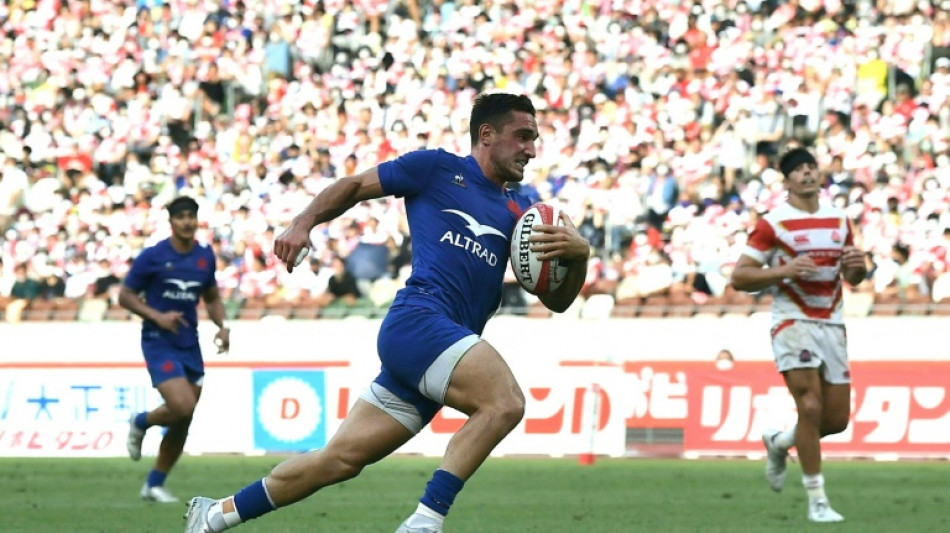 'Heart and soul' edges France past Japan in rugby thriller / Foto: © AFP
France captain Charles Ollivon said the Six Nations champions needed to put their "heart and soul" into Saturday's 20-15 win over Japan after trailing at half-time for the first time this season.
France needed a 71st-minute try from replacement scrum-half Baptiste Couilloud to overhaul Japan after playing catch-up for most of the second Test at Tokyo's National Stadium.
Japan led 15-7 at the break but Ollivon said his team "did not panic" and "kept to our game plan" to eventually claim their 10th straight win on an emotional day in the Japanese capital.
The game was being held just one day after the country was shocked by the assassination of former prime minister Shinzo Abe, with the events of Friday still raw among the 57,000-plus crowd.
"We had to come out fighting in the second half and we struck together," said Ollivon.
"We had to put our heart and soul into going for this victory because the Japanese provided excellent opposition. We are relieved."
The game was preceded by a minute's silence for Abe, Japan's longest-serving prime minister who was shot and killed by a gunman on the campaign trail on Friday.
Matthis Lebel's ninth-minute try gave France the lead but two tries from Japan full-back Ryohei Yamanaka put the home side in control at half-time.
France worked their way back into the game after the break through penalties from Maxime Lucu and Matthieu Jalibert.
Couilloud then darted through a hole in the Japanese defence to score the decisive try with less than 10 minutes remaining.
- 'Really disappointed' -
"It was interesting for us to see how the team would react," said France head coach Fabien Galthie.
"In the end we knew how to react and score and create good opportunities. It was important for us to win this match and the bench helped us a lot in that respect."
France won last week's first Test in Toyota 42-23 after a similarly spirited first-half display from Japan.
Japan head coach Jamie Joseph said he was "really disappointed" after the latest defeat, after his team had got themselves "in position to win the Test match".
"I guess it's just a performance that we have to put under the guise of learning," said the New Zealander.
"Those sorts of things will hold us in good stead going forward. I just feel a bit flat."
Japan thought they had claimed their maiden win over France in a thrilling finish when replacement Tevita Tatafu crossed the line with five minutes remaining, only for a TMO review to disallow the try for not grounding the ball cleanly
"I think the biggest learning for us as a team now is that primarily our game is good enough," said Joseph.
"I think that's important for our players to understand."
Galthie brought an inexperienced squad to Japan as he looked to increase his options towards next year's World Cup on home soil.
The coach gave debuts to several players and said the tour had been "an important step in the growth of the France team".
"The aim was to win the matches on our schedule, and we achieved our target," he said.
"That is important for us. If, like we did here, we bring along young players, it is imperative we help them succeed in achieving that ambition."
(A.Nikiforov--DTZ)