Eddie Jones's second chance -- can he deliver for Australia?
---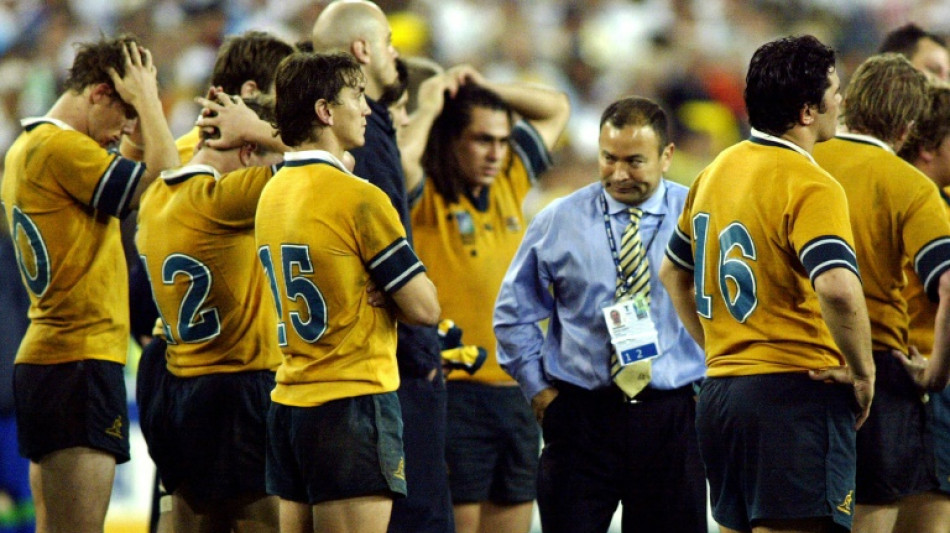 Eddie Jones's second chance -- can he deliver for Australia? / Foto: © AFP
Deutsche Tageszeitung
The return of former England coach Eddie Jones to take the reins of the Wallabies represents a gamble by Australian rugby chiefs.
They believe that later this year Jones can deliver the World Cup -- which he came close to doing in his previous stint with Australia only for England fly-half Jonny Wilkinson's drop goal to deny the Wallabies in Sydney in 2003.
AFP Sport highlights three key points surrounding Jones's appointment that was announced on Monday:
- Yesterday's man? -
"Coaching at the next World Cup will be difficult," Jones told the Sydney Morning Herald after he was dismissed in December, admitting the last three years of his tenure in charge of England had taken a toll.
A month later the unpredictable Australian appears to have had a sudden change of mind.
However, the main question is whether his fortunes as a coach enjoy as quick a turnaround after a miserable 2022 when his record was hardly any better than the man he is replacing, Dave Rennie.
In his favour he does -- rather like Jose Mourinho in football -- have a knack of hitting the ground running and securing results before the love affair sours.
Nevertheless there was a feeling that the 62-year-old's time may have passed, his tactics outmoded and outshone by the younger generation of France's Fabien Galthie and Ireland's Andy Farrell.
Several are still believers in Jones's magic but for some like Clive Woodward -- the coach who got the better of him at the 2003 World Cup -- the England job exposed his weaknesses.
"He will be remembered for the misguided rhetoric and unfulfilled promises," Woodward wrote in a Daily Mail column after his sacking.
- Youngbloods offer hope -
Rennie should be credited with bringing through young talent, notably the livewire 22-year-old wing Mark Nawaqanitawase, who was one of the few positives of Australia's northern hemisphere tour in November.
He and Jordan Petaia, also 22 but with more Test experience, have shown the flair required to cause problems for any opponent.
Jones is not averse to bringing in fresh faces as he did with England fly-half Marcus Smith and Maro Itoje but he was quick to dispense with many others.
Jones has a more abrasive and no-nonsense style than Rennie and whether that proves a spark or inhibits the natural exuberance of the youngsters could be pivotal to the Wallabies' progress.
Similarly in Jones's mind the young stars also have to assume certain responsibilities as he highlighted when pointing out the potential pitfalls to Smith.
"The big thing for young players is distractions," Jones said in November 2021.
"Distractions can be the exposure they get in the media, the praise and criticism they get, groups of agents who see this guy as the next big thing.
"No-one starts with their feet off the ground or they don't get in the team. But there's this flood of distractions that comes in that makes you ungrounded."
- Lessons to be learned from Cheika approach -
Australia's win and loss column from last year may make grim reading but they were just one try away from beating both Six Nations Grand Slam titleholders France and the world-ranked number one team Ireland in November.
Add to that the character they showed to come back and beat Wales 39-34 after trailing 34-13 and there appears to be a solid base for Jones to build on.
The example set by Michael Cheika -- a larger-than-life, straight-talking character like Jones -- in 2015 could prove a handy one.
Cheika had a disappointing first campaign in charge in the northern hemisphere in 2014 but went away and moulded a team of veterans like Matt Giteau with younger talents including Bernard Foley and Michael Hooper.
The result was that the Australians surprised many in reaching the World Cup final and gave New Zealand a run for their money.
Jones has Foley, Hooper and another member of the Cheika side, James Slipper, available as veterans.
Their experience of the 2015 run allied to the raw young talent could well see a repeat if Jones develops the latter and avoids clashing with the senior players.
(P.Tomczyk--DTZ)