'I got lucky': Gauff edges Raducanu in battle of prodigies
---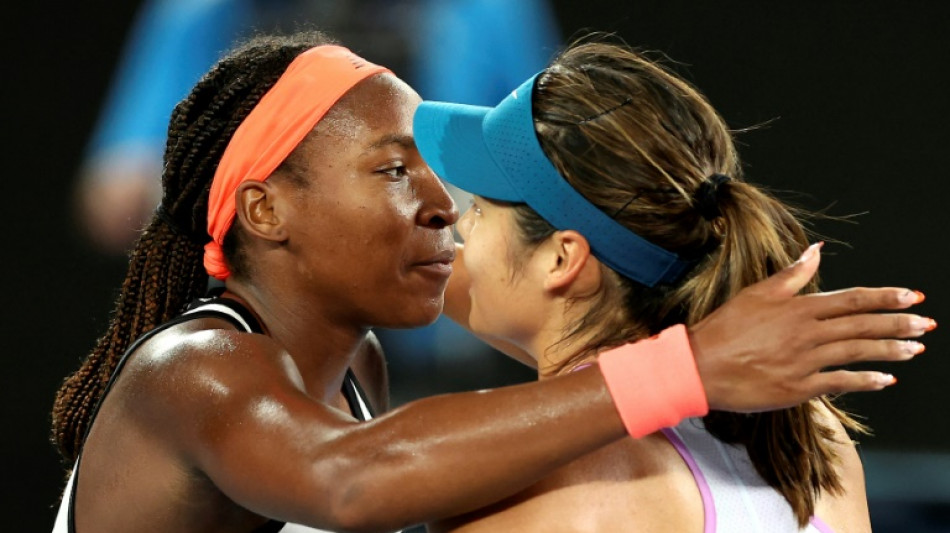 'I got lucky': Gauff edges Raducanu in battle of prodigies / Foto: © AFP
Coco Gauff won the battle of tennis prodigies on Wednesday at the Australian Open -- then said she "got lucky" on the way to defeating Emma Raducanu in straight sets.
The seventh seed won 6-3, 7-6 (7/4) to reach the third round in Melbourne and will play China's Zheng Qinwen or fellow American Bernada Pera.
There were 70 places separating Gauff and 2021 US Open champion Raducanu in the rankings, but you wouldn't have known it as the pair tussled for an hour and 42 minutes on Rod Laver Arena.
It was a highly anticipated first tour-level match between the young talents and they did not disappoint.
The good friends went toe-to-toe throughout, exchanging service breaks, but the turning point came in the second set when Gauff grittily saved two set points serving at 4-5.
"I think I did a good job not freaking out on my serve," the 18-year-old told reporters.
"Honestly, one of those set points definitely probably had the ball on her racquet with the drop shot. I got a little bit lucky there."
Gauff then edged past the Briton on her third match point in the tiebreak, before they embraced warmly at the net.
"I just told myself to hang in there and I was playing really good tennis towards the end," said the teenager.
The 20-year-old Raducanu, who is ranked 77, showed no signs of the ankle injury that forced her out of the recent Auckland Classic, which Gauff won for her third WTA Tour title.
"Kudos to Emma," said Gauff. "I know she had a tough week in Auckland. So really good for her to be able to play this level after such a scary moment.
"The whole match was great and considering the circumstances I can imagine both of us was nervous. This was a long-anticipated match-up since the draw came out."
- Resilience -
It was Gauff who struck the first blow, securing the first set after 43 minutes.
She kept up the momentum at the start of the second with an early break.
But Raducanu, moving in closer to attack the American's second serve, aggressively hit back to square the set at 4-4.
"She raised her level a lot towards the end of the second set," said Gauff.
"It takes a lot of resilience to do that. When you're down a set and a break, it's easy to throw in the towel. I think she did a good job of raising her level when she needed to.
"Just honestly, tiebreakers can go either way, and it went my way tonight."
Raducanu was trying to reach the third round of a Slam for the first time since her shock win as a teenage qualifier at the 2021 US Open.
Gauff is on a seven-match winning streak in 2023 and eyeing a first major of her own after reaching her first Grand Slam final at Roland Garros last year.
When Gauff first shot to prominence as a 15-year-old qualifier by beating Venus Williams at Wimbledon in 2019, Raducanu was on the outside courts playing in the girls singles.
Two years later it was Raducanu's turn in the teenage spotlight as she won her first Grand Slam title.
But she plunged down the rankings last year after a first full season on tour which was hampered by injuries and patchy form.
(A.Stefanowych--DTZ)