Stocks struggle on China data; gas prices extend losses
---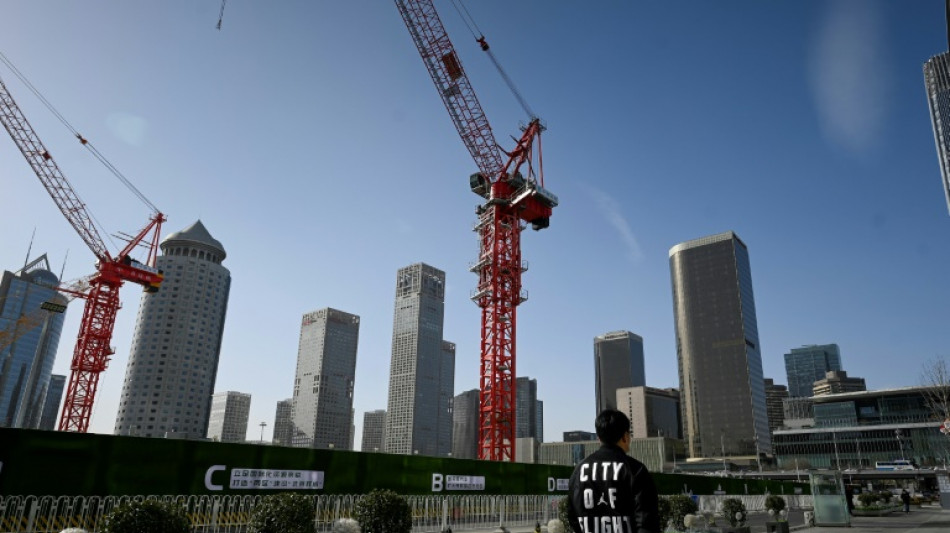 Stocks struggle on China data; gas prices extend losses / Foto: © AFP
Deutsche Tageszeitung
Global stock markets struggled Tuesday on news of China's slowing economy, but European gas prices hit another 16-month low on fading fears of a winter supply crunch.
Asia's equities mostly fell as data showed the Chinese economy grew at its slowest pace in four decades last year, sparking talk of an uneven recovery as the nation emerges from debilitating zero-Covid measures.
Europe also pushed lower with investors digesting the Chinese data in a busy day for US earnings, with profits slumping at banking giant Goldman Sachs.
Europe's gas market meanwhile returned to a low not seen since September 2021, as unusually warm weather dampened winter demand expectations, but oil prices advanced.
Chinese GDP slowed sharply to three percent in 2022, the worst year since 1976 excluding pandemic-hit 2020, as lockdowns and other containment policies hammered activity, data showed Tuesday.
That beat the 2.7 percent forecast and the fourth-quarter reading also topped estimates, but the outlook remains unclear.
- Uneven recovery? -
"The decision to drop the zero-Covid policy in the face of rising opposition, while welcome, is likely to prompt an uneven recovery for the Chinese economy in the coming months," said CMC Markets UK analyst Michael Hewson.
"This is because of the unwelcome side effects of the inevitable explosion in infection rates and mortality in a largely unvaccinated population, which we've already seen in the aftermath of this relaxation last month."
Other analysts remain hopeful, however, that China's reopening will fuel its strong rebound and help support the global economy, which is buckling in the face of interest rate hikes and soaring inflation.
"Looking forward, we expect to see a sustained economic recovery in 2023 as a result of reopening and policy stimulus," said Chaoping Zhu, of JP Morgan Asset Management.
Traders are now awaiting a key policy decision by the Bank of Japan on Wednesday, which comes after it last month surprised markets by announcing a shift away from its ultra-loose monetary policy, sending the yen soaring.
There will also be a focus on speeches by top finance officials at the annual Davos summit in Switzerland this week.
Back in London, online supermarket Ocado saw its share price plummet 6.7 percent to 753.60 pence, topping the fallers' board after posting declining sales.
- Key figures around 1200 GMT -
London - FTSE 100: DOWN 0.3 percent at 7,833.48 points
Frankfurt - DAX: DOWN 0.1 percent at 15,126.60
Paris - CAC 40: DOWN 0.1 percent at 7,034.16
EURO STOXX 50: DOWN 0.1 percent at 4,152.29
Tokyo - Nikkei 225: UP 1.2 percent at 26,138.68 (close)
Hong Kong - Hang Seng Index: DOWN 0.8 percent at 21,577.64 (close)
Shanghai - Composite: DOWN 0.1 percent at 3,224.24 (close)
New York - Dow: Closed for public holiday
Euro/dollar: DOWN at $1.0822 from $1.0824 on Monday
Dollar/yen: UP at 128.86 yen from 128.55 yen
Pound/dollar: UP at $1.2246 from $1.2204
Euro/pound: DOWN at 88.35 pence from 88.66 pence
Brent North Sea crude: UP 1.1 percent at $85.39 a barrel
West Texas Intermediate: UP 0.4 percent at $80.15 a barrel
(V.Sørensen--DTZ)